Yes, I'm posting another engagement session from Skyline Drive. When you see these photos from my day with Kaitlyn & Zachary, you'll understand why I had to share! The views along this road are incredible and every bend in the road brings something a little different to capture, meaning that no two Skyline Drive sessions look the same.
We had planned to do their engagement session a few weeks earlier, but the rain forced us to reschedule. Don't get me wrong: I love to continue shooting when we get surprised by a little rain. But when the rain is coming down hard and the sky is dark, rescheduling is a must. Luckily, we rescheduled on a beautiful crisp autumn day with clear skies.
When I plan a shoot on Skyline Drive, I prefer to meet up with my couples beforehand so that we can hop in the car together and set off for an adventure. I love traveling together, because we can stop the car and hop out wherever the light is intriguing or the landscape is looks inviting.
Oftentimes, the best shots are found when we can be flexible instead of planning to meet at a specific overlook. It also gives us even more time to chat and get to know each other. As I can't stress enough, getting to know my couples is the best way for them to relax in front of the camera and for me to better capture their unique personalities.
When we reached the overlook, there were five other couples taking photos! We snuck down to a more secluded section and hung out for a bit before more people started to crowd in. While Raven's Roost is beautiful, we decided to hop back in the car in search of somewhere a little more private.
The ability to capture connection between my couples is more important to me than nailing a dynamic view so I was glad when they said they were up for privacy as well. We drove for a bit then decided to stop along the side of the road as the sun was setting, and I had a lot of fun working with that light. Once the sun had fully set, I captured some beautiful silhouettes against the changing colors of the sky.
If you want to go on a photo adventure along Skyline Drive or anywhere really, I'd love to explore! Reach out today and let's get your date on the calendar!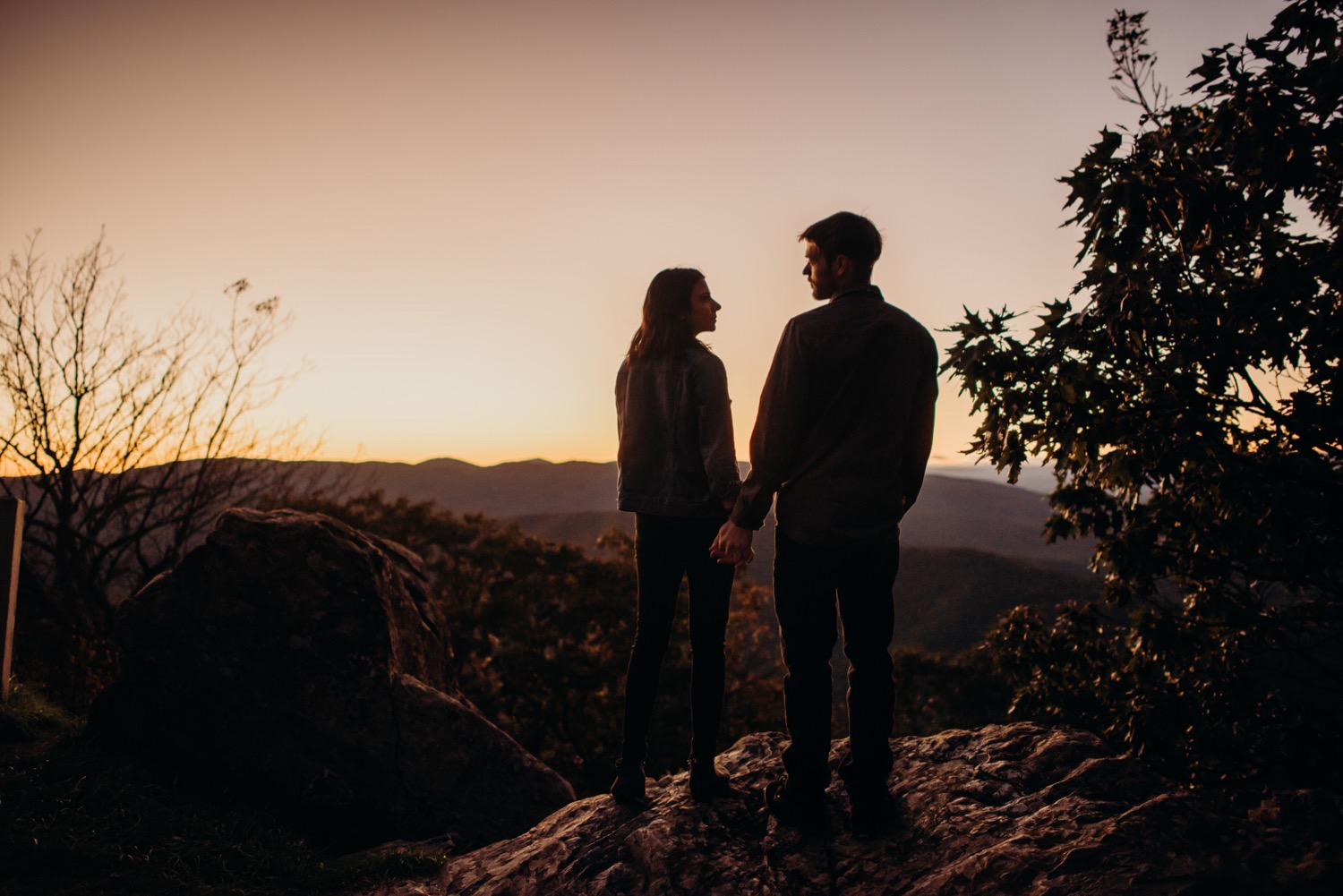 Your Narrative blog will appear here, click preview to see it live.
For any issues click here